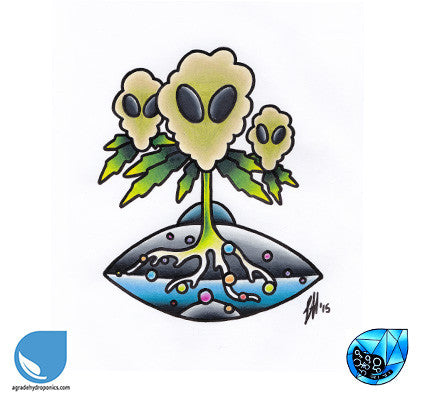 Alien Kush
2500
$25
Alien Kush is a strain interpretation designed by Leigh Hyland from the Tatty Shack! His drawings are inspired from first... More info
Product details:
Alien Kush is a strain interpretation designed by Leigh Hyland from the Tatty Shack! His drawings are inspired from first hand interaction with these awesome strains, each print is on high quality 30 gsm paper and he has only 30 available of each of these prints so they are very limited to the world of hydroponics art collectors. Check out the foot of the website and see the strain art by Leigh Hyland to buy them all! They are so good. A great set of illustrations.
Here is a great description written by leafly that inspired this surreal piece of art.

Alien Kush is a potent cross of LVPK and Alien Dawg that originally hails from California, not deep space. It may have you feeling a little spacey, though, as this strain touches down in the brain first, giving active, sometimes-psychedelic effects. The active buzz settles over time into a relaxing body buzz that will dissolve both stress and pain. Alien Kush plants have average yields, but they are hardy, easy-to-grow plants, indoors or out. The light green buds have a covering of red or orange hairs and should be airy. This strain has a piney smell, but the taste is a subtle spiciness that is reminiscent of tea.