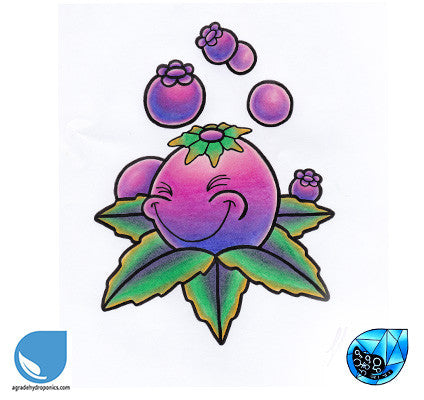 Bubble Berry Strain Illustration
2500
$25
Bubble Berry strain interpretation by Leighbowski from the Tatty Shack below is a description on the strain from wikileaf for... More info
Product details:
Bubble Berry strain interpretation by Leighbowski from the Tatty Shack below is a description on the strain from
wikileaf
for those after greater insight to what effects help Leigh produce this great artwork.
Bubbleberry is a balanced hybrid created by Sagarmatha Seeds, a group of Amsterdam-based breeders who have created flavorful strains like Yumboldt. A cross between Bubblegum and favorite hybrid Blueberry, Bubbleberry offers a well-rounded high that combines the best of indica and sativa effects. It also has the full-bodied aroma that you'd expect of parent strain Blueberry. A crowd-pleaser for cannabis novices and veterans alike, this strain won the 1998 San Francisco Bay Area Growers' Award. Cannabis testing lab Analytical 360 has found samples of Bubbleberry to have between 14% and 20% THC.
Bubbleberry sets itself apart with medium to large-sized flowers that are spade-shaped, tapering from a broad base down into a pointed end. The buds cling together in a densely-packed, indica-typical formation. The leaves themselves are a vibrant spring green and are shot through with twisted brown and orange hairs (which are actually pistils, structures meant to catch pollen from male fertilizing plants). A scattering of translucent amber trichomes lends some stickiness, as well as a slightly yellow hue.