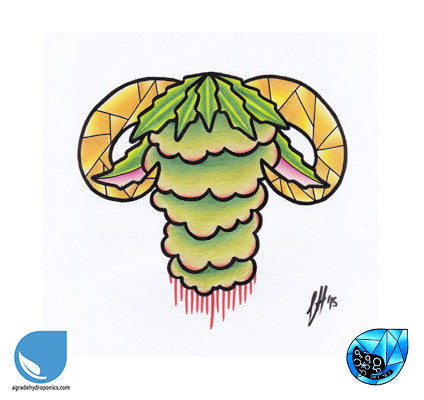 Golden Goat
2500
$25
Golden Goat strain art by Leigh from the Tatty Shack! Limited edition prints click here to buy yours or complete... More info
Product details:
Golden Goat strain art by Leigh from the Tatty Shack! Limited edition prints click here to buy yours or complete your collection.
Amazing artwork Interpretation by Leigh read this review written by Leafly on the actual strain that inspired this creation.
Golden Goat was created by accident in Topeka, Kansas, when a male Hawaiian-Romulan pollinated Mr. Dank's Island Sweet Skunk. The scent is described as being a combination of sweet, sour, and spicy, with a tropical fruit flavor. Its full-body effects provide a delightful rush of euphoria and creative spark. Golden Goat's flowering time is 9 to 11 weeks, with a golden appearance closer to harvest.