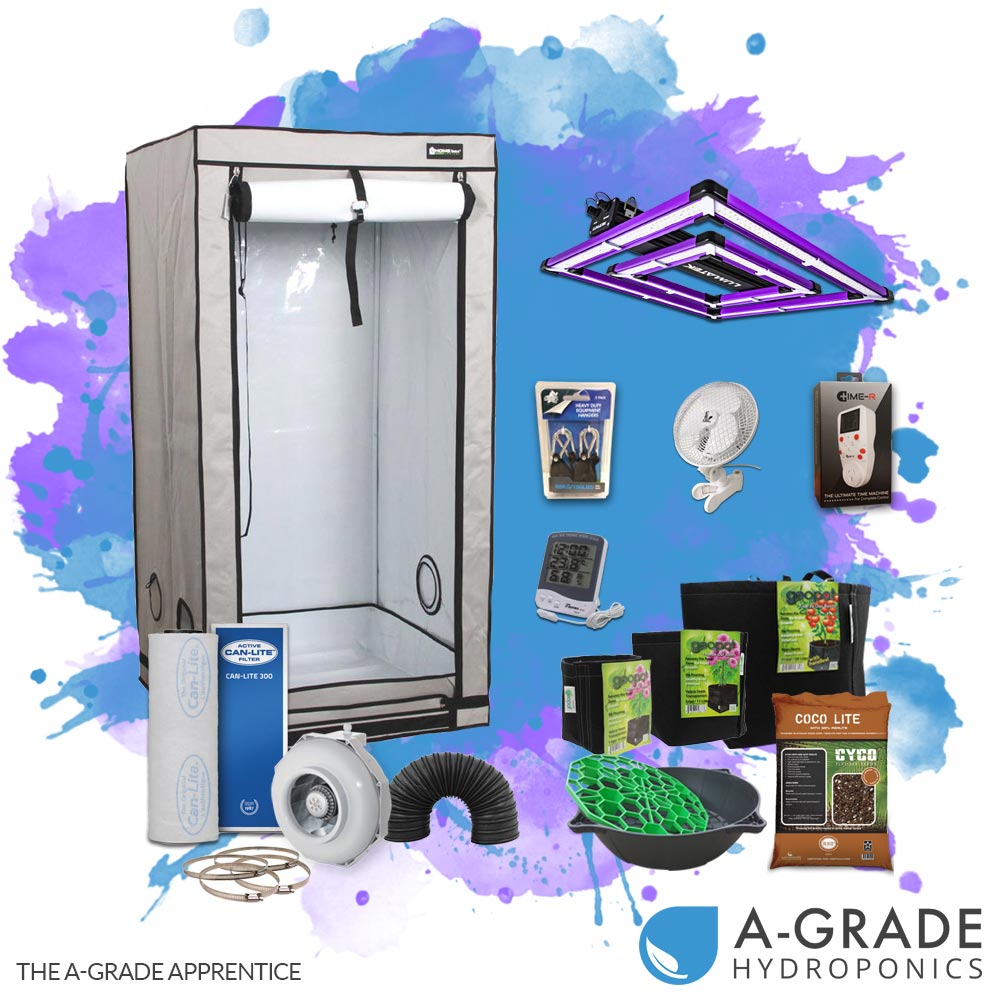 The A-Grade Apprentice
149990
$1,499.90
What's Included in The A-Grade Apprentice? HOMEbox® Ambient Q80+ (0.8 x 0.8 x 1.8M) LUMATEK ATS 200W Pro LED MOJO COW Time-R Digital... More info
Product details:
What's Included in The A-Grade Apprentice?
Black Ducting 100mm

GEOPOT 4L/1G Fabric Pot

GEOPOT 11L/3G Fabric Pot

GEOPOT 26L/7G Fabric Pot
Please note: As our stock changes, some of the products included in these packs may be substituted with an equivalent or superior product.  
The A-Grade Apprentice Grow Room
If you are new to indoor gardening and don't know where to start: look no further.
The A-Grade Apprentice has been especially designed for beginner growers (or experts looking for a smaller space) to discover the art of indoor horticulture with simple and user-friendly equipment. 
With The A-Grade Apprentice you can grow all types of fruit, flower, vegetables and herbs, all year round!
The Grow Room:
The A-Grade Apprentice package starts with the HOMEbox Ambient Q80+. With practical ventilation, access and power cable entry points, these grow rooms are easy to use and extremely durable. The PAR+ surface increases reflectivity, ensuring maximum light efficiency for fast-growing plants and a perfectly controlled growing environment.
The Light System:
The Lumatek ATS200W full spectrum LED is suitable for all stages of growing, and comes with a built-in dimmer control. Increasing the light energy as your plant/s grow larger is just that easy. The Lumatek ATS200W delivers the same PPFD output as a 400W HPS system, except now you'll be saving 200W in overall power usage all whilst yielding a better, harder & healthier crop.
The Ventilation System:
The best in the industry are Can-Fan & Can-Filter: and that's what you get in this pack. The Can-Fan RK 100LS is a mini example of the state-of-the-art German-made centrifugal fan technology Can-Fan are known for. The RK 100LS has a 4-speed control making it the only fan you'll need for the duration of your grow.
Can-Lite carbon filters are manufactured and packed with the highest grade carbon ensuring thorough scrubbing an air-filtration.  The Can-Lite 300 Poly carbon filter is slim enough to fit in the HomeBox Q80+ without compromising on quality.

The Growing Method: Coco
Growing in coco is one of the best and easiest ways to learn the fundamentals of growing with hydroponic nutrients. We include here a selection of fabric grow pots for optimal root growth, a pot grid to keep your pot off the ground and a pot base to collect all your nutrient run-off.
Coco growing systems are recommended for beginner growers to start their growing journey and learn the ropes. This traditional growing system is often utilised by professional growers for its reliability and flexibility.