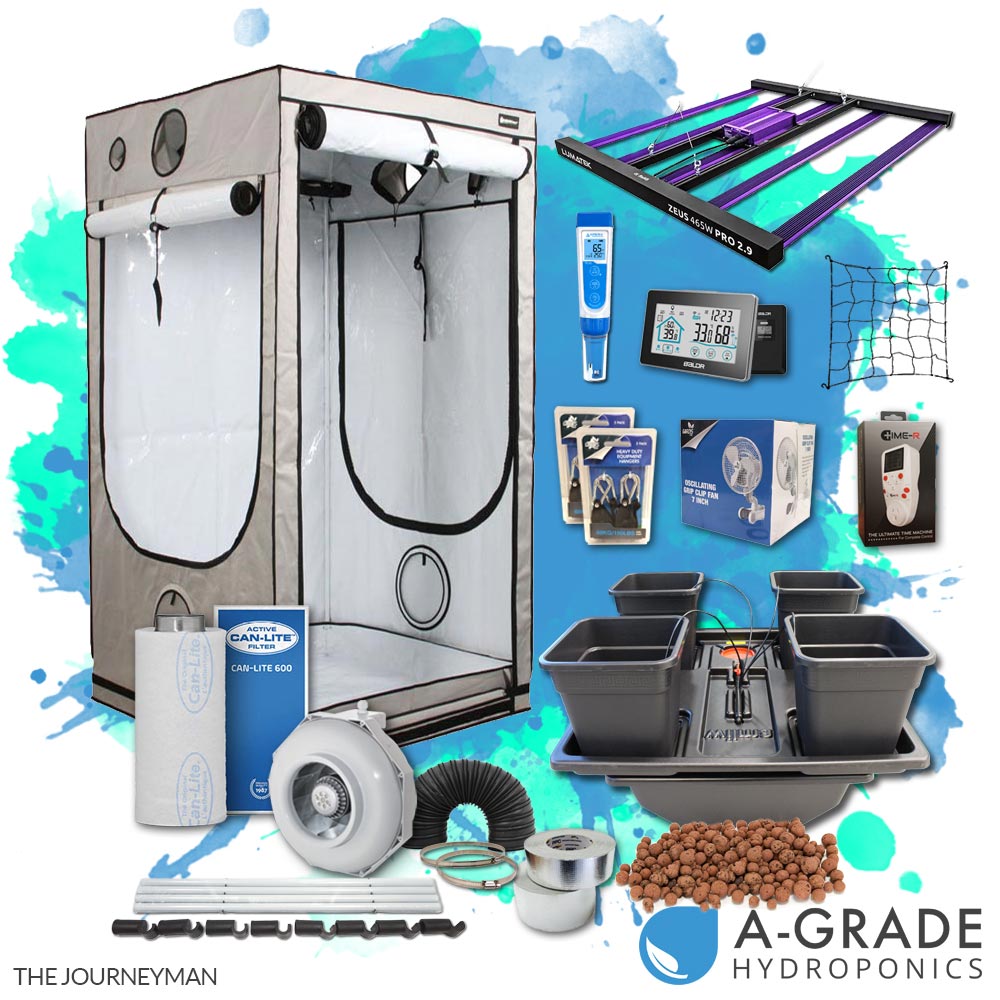 The A-Grade Journeyman
339900
$3,399
What's included in the A-Grade Journeyman grow room package? HOMEbox Ambient Q120+ (120 x 120 x 220cm) HOMEbox- 120cm Fixture... More info
Product details:
What's included in the A-Grade Journeyman grow room package?
Please note: As our stock changes, some of the products included in these packs may be substituted with an equivalent or superior product.  
The Journeyman Pack
If you are a seasoned grower looking for an upgrade, a new gardener with big ambitions or you're just looking for an add-on to your existing perpetual operation without consuming too much space, The Journeyman is perfect for you. 
The Grow Room:
The A-Grade Journeyman package starts with the HOMEbox Q120+.  Complete with practical ventilation, access and power cable entry points, these grow rooms are easy to use and extremely durable. The PAR+ surface increases reflectivity, ensuring maximum light efficiency for fast-growing plants and a perfectly controlled growing environment.
The Light System:
The Lumatek 465W Zeus Pro 2.9 umol/J is a full spectrum LED that is suitable for all stages of growing, and comes with a built-in dimmer control. Increasing the light energy as your plant/s grow larger is just that easy. The Lumatek 465W Zeus Pro 2.9 exceeds the PPFD output on a 600W HPS system on boost, except now you'll be saving 195W in overall power usage all whilst yielding a heavier, harder & healthier crop.
The Ventilation System:
The BEST in the industry are Can-Fan & Can-Lite: and that's what you get in the A-Grade Journeyman pack. The Can-Fan RK 150S centrifugal fan is 4-speeds of superior air extraction. Deceptively powerful for its size, the RK 150S can be used in a range of spaces.
Can-Lite carbon filters are manufactured and packed with the highest grade carbon ensuring thorough odour scrubbing and air-filtration, it is the only carbon filter in the world that has the Reach compliance certification. The Can-Lite 600S carbon filter is a perfect fit in the HomeBox Q120+ without compromising on quality or airflow requirements.

The Growing Method: Origin Recirculating Dripper System
A reliable form of feeding plants without the daily maintenance of manually feeding.
The Origin 4-pot system (formerly known as 'The Wilma System') has been designed for growers in square spaces. This 4-pot hydroponic system is 90mm x 90mm, perfect for the Q120+ growing room.
NUTRICULTURE's 4-Pot Origin is a complete recirculating system ready-to-go! Just add clay balls, plants, water & nutrients. The Origin dripper system has long been known as a great style of growing plants and many other designs have taken inspiration from the Wilma.
You're going to need a reliable instrument to keep on top of your water control readings. The APERA PC60 reads pH and EC with digital 2-point accuracy and comes in a super-handy kit with mini vials of calibration fluids so you can get started straight away. 
The Accessories:
The A-Grade team understands the smaller things needed by growers on a daily, weekly & monthly basis. We have included a clip fan, netting for SCROG, a timer, thermometer. The A-Grade Journeyman is a complete hardware package created with the right tools that will enable you to perform at your best.
What hydroponic nutrients do I use?

Well, that depends on what kind of gardener you are. Come into the A-Grade Hydroponics shop located in Melbourne for a chat with one of the in-house hydro experts, or contact us via phone or email and we can help you find a nutrient range to suit your growing style.