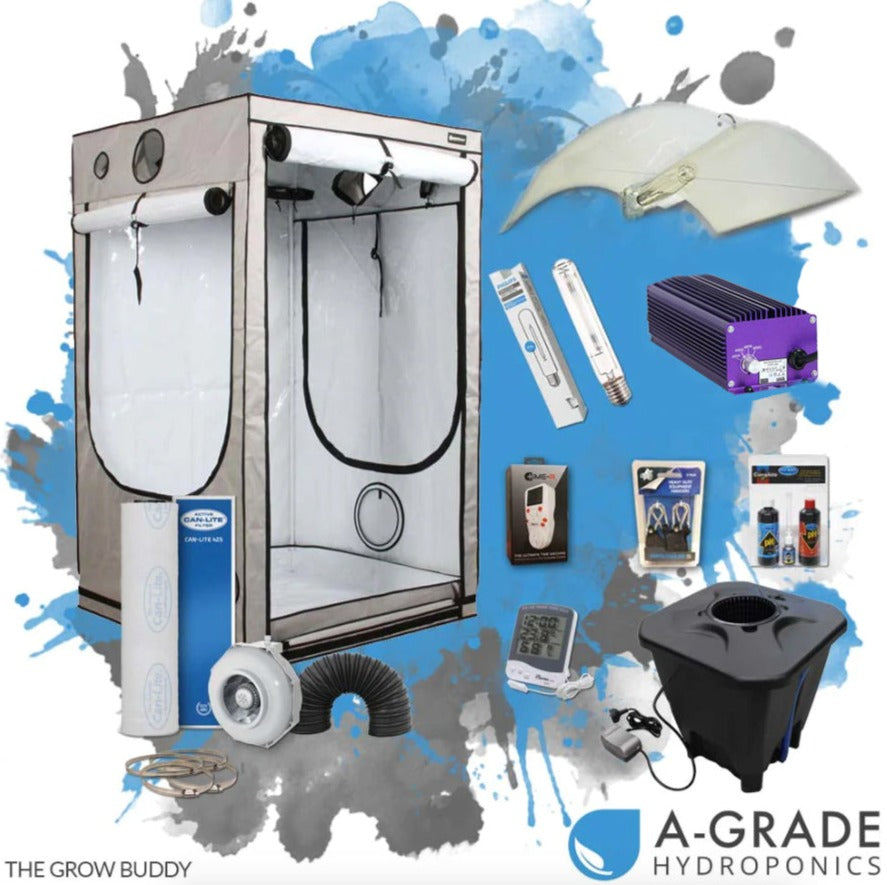 The Grow Buddy
135990
$1,359.90
  What's Included in The Grow Buddy? HOMEbox® Ambient Q100+ (1.0 x 1.0 x 2.2M) ADJUST-A-WING Medium Reflector with single-ended... More info
Product details:
What's Included in The Grow Buddy?
NUTRICULTURE OxyPot DWC System

 + 1L clay pebbles
CAN-FAN RK 125LS Centrifugal Fan

CAN-LITE 425 Poly - Carbon Filter 125mm flange
Please note: As our stock changes, some of the products included in these packs may change without notice to an equivalent or upgraded substitute product. 
--------------------------------------------------------------------------------------------------------------------
The Grow Buddy was the first pack A-Grade Hydro designed- all the way back in 2014! As our customers evolved, so did the Grow Buddy. The latest reincarnation is the best yet. The Grow Buddy is a well-sized space for those wanting to tiptoe into indoor gardening and hydroponics
The Grow Room:
The Grow Buddy package includes a quality HomeBox Ambient Q100+ grow tent, complete with practical ventilation access and power cable entry points. These grow rooms are easy to use and extremely durable. The PAR+ surface increases reflectivity, ensuring maximum light efficiency for fast growing plants and a perfectly controlled growing environment.
The Light System:
The dimmable Lumatek 600W digital ballast lowest setting is 400w, which is great for the start of your grow. The Philips 600w lamp will see the grow through from start-to-finish; alongside a medium-sized adjustable reflector made by Adjust-A-Wing. These reflectors mount easily and fit perfectly in the tent system for maximum light output and penetration.
The Ventilation System:
The RK 125LS is a deceptively powerful extraction fan and will ensure optimum ventilation. Add the slim and lightweight Can-Lite 425 Poly carbon filter; mount the system inside or outside the tent per your spacing and temperature control requirements. 
The Growing Method:
The OxyPot is a one-pot deep water culture (DWC) system designed for a single plant, and comes complete with an air pump, airline and air stone.
Once you have set up your OxyPot, your seedling is then transplanted into the 140mm mesh-pot and clay pebbles provided. The air pump powers an air stone at the base of the system to oxygenate/aerate the nutrient solution. (This helps roots grow very fast).
All that is left for you to do is to choose your hydroponic nutrients and go for it!!